Bedding Collections 20% Off @ Dunelm Mill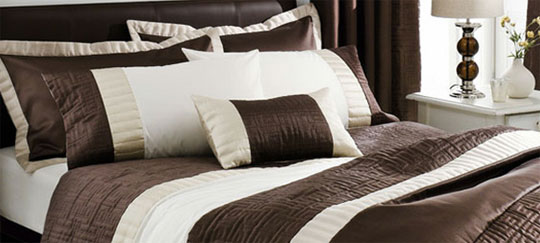 I've tried to resist, I really have, and I've looked around for a different deal to tell you about BUT I can't HELP IT!!!  These bedding sets, which have 20% off, at Dunelm Mill are just too tempting - especially when you have a 'thing' for bedding like I do!
I don't know what it is about bedding sets that do it for me, but there really IS something and I find new ones almost impossible to resist.  I always loved the look of beds in show homes and catalogue pictures and promised myself that one day I'd have one.
Well I do, and whilst it's a pain hoofing off all the pillows and cushions, I adore how my bed looks when it's made.
If you're a bedding fanatic like me then there's going to be plenty to whet your appetite among the selected bedding sets - the Athens set in chocolate brown is talking to me, a LOT, as is the Gold Eternity set.
You can reserve and collect for free if you have a Dunelm Mill near you, otherwise standard delivery will cost you an additional £3.95.