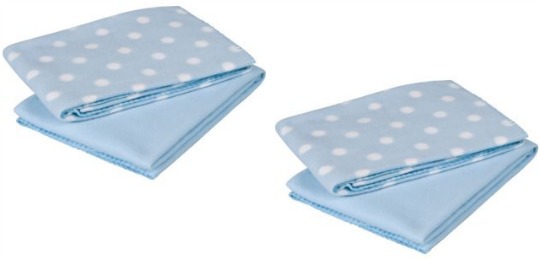 These are selling fast! The BabyStart fleece blanket set from Argos is only £1.99. This baby bedding set had been originally £7.99, then was selling for £2.99. Bet you're thinking that was good and now they have took another £1 off. Only the blue or the pink coloured set is this dirt cheap price, the natural is at £7.99.
The BabyStart fleece blanket set consists of two fleecy blankets. You know the sort, soft and cosy. One is plain and the other is polka dot patterned.
Now, there's a bit of confusion here as Argos say in their description that it is for baby but also recommend usage for over twelve month olds. I guess it would be up to you. All I will say is that it is to watch because babies do get very snug with this sort of warm material.
The blankets are machine washable at forty degrees, but there's no mention if they are suitable in the tumble dryer. This sort of material dries quickly when hung out.
Stock levels for both of the BabyStart fleece blanket sets are available in around 70% of the stores, but my advice is to get in their quick folks. You can collect for free from your local Argos store or pay £3.95 for delivery.