Baby Sleeping Bags - Buy One Get One Half Price @ Mothercare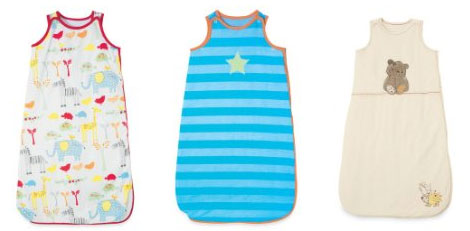 In my opinion, baby sleeping bags are to be lauded as the invention of angels and Mothercare currently have a Buy One Get One Half Price offer on selected baby sleeping bags.
Start planning ahead!  Have you noticed how it's getting lighter earlier and darker later?
Have you seen the daffodills and the snowdrops all beginning to put in an appearance? Spring and summer really aren't far away, HURRAH!
Have you also noticed how shops sell summer clothes in the winter and winter things in the summer?!
I remember the same applying to baby sleeping bags when I was in the market for them – most frustrating, so if you, or someone you know, is expecting a summer baby then now's the time to get your summer sleeping bags.
Only one of my children kept still when he slept, the other two were absolute fidgets.  Baby sleeping bags didn't exist 15 years ago so the older fidget often woke up chilly, but with the youngest fidget I discovered the delights of these genius things!
No more tucking in blankets thousands of times a night, changing nappies in the middle of the night a breeze – just un-popper the baby sleeping bag at the business end leaving the top half of baby still snuggly and warm.
Baby sleeping bags are definitely on my MUST HAVE baby item list.