Baby Einstein Nautical Friends Play Gym £27.99 @ Mothercare / ELC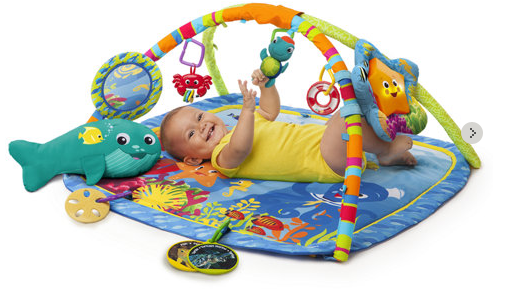 Today's Deal Of The Day at Mothercare and ELC is a cracker. The Baby Einstein Nautical Friends Play Gym is for sale at around £60 in other retailers, but Mothercare have it for £35 this week and for TODAY ONLY it is £27.99!
I think you'll agree that is a fantastic price for a play gym, especially one as good as this.
It's a padded play mat with a toy arch, and a whale shaped pillow to prop baby up for tummy time play. There are loads of toys with it including teethers, rattles, flashcards and a bead chaser.
The 3 in 1 Starfish Toy that is included has music and lights, and can be set to different modes for baby motion activated or continual 20 minutes of classical melodies and light. It can be detached from the play gym and will attach to cribs or carriers so you can keep your baby amused with a familiar toy when out and about.
This is so much more impressive than the play gym that I had for my children, and that cost more than this one! This one has great reviews too.
If you need a play gym or know someone who does then grab it today while you can. Demand will be high and online sales at Mothercare and ELC are limited to 6 per customer.
Click and collect is free, or home delivery is from £2.95.