We've already mentioned the deal on the Avent baby monitor at Bo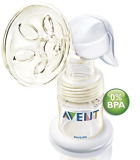 ots but we've finally cottoned onto the fact that they're offering up to a third off a whole range of items in the Philips Avent range of baby products.
Advantage Card customers who spend £20 or more on baby products will earn a rather lovely 10 points for every £1 spent, too.
One of the best deals in this offer is the Philips Avent Manual Breast Pump for £23.33 instead of the usual price tag of £35.00, saving you £11.67. That's more than enough for an enormous latte, a giant slice of chocolate fudge cake and possibly even the latest best-seller. And you'll deserve all of those if you have need of a breast pump because expressing milk is not the easiest or the most fun task in the world. BUT! Expressing milk so that someone else can feed the babe is brilliant for father-baby bonding (and even grandparent-baby bonding) as well as for buying you an early night or an hour with that enormous slice of fudge cake.
I can't recommend this pump highly enough. I tried the uber-expensive hospital grade electronic ones but frankly, this little dude did the job perfectly well. The VIA cups that it comes with are absolutely brilliant too. You get 5 cups and lids plus 2 clever little adap

tors and teats to transform the cups into bottles. If I remember correctly the cups made brilliant pots for freezing purees when you reach the weaning stage, too.
There are loads of items in the Boots Avent sale incuding sterilisers and bottles so if you're shopping for an imminent arrival, it's worth checking out the items currently on offer at Boots.