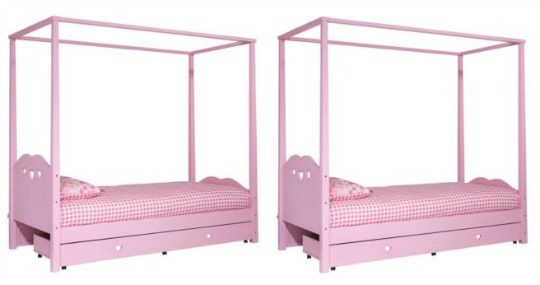 We brought you this last week at £119.99 and now Argos have the Ashley single four poster bed reduced to £99.99. Thank you very much Argos!  Now, Argos reckon this has a RRP of £574, I highly doubt it's worth that. They they had it for sale on at £149.99. I think you will agree that £119.99 is a good price for a single four poster bed BUT £99.99 is even better.
This Ashley single four poster bed would be absolutely perfect for any little Princess. With it's pink colour and cut-out heart motifs, this bed is mega girly. The heart cut-outs aren't just decorative but are functional as handles for the handy pull out drawer. What more could you ask for at this price?
This bed will get you serious brownie points with your little girl. I always wanted a four poster bed as a child, and I still do. Not sure my other half would appreciate me sleeping in my own little bed in the corner of our room, though. I bet most little girls would love one of these.
There's plenty of stock available, but items like this do tend to sell fast, so if you like it then act quickly to avoid disappointment.
The Ashley pink four poster bed arrives flat packed from Argos at a charge of £8.95 and there is no option to collect yourself. Even factoring in delivery costs this is still a really good price for a fancy little girls' bed with storage.
Thanks to Milly on Facebook