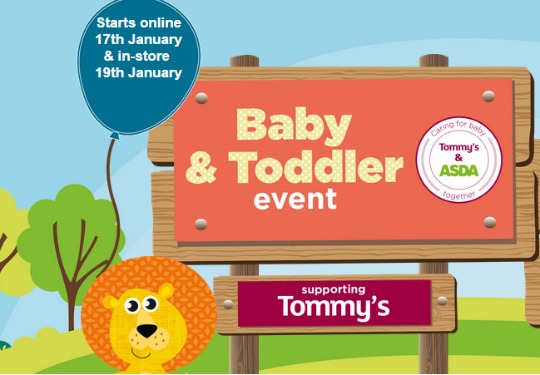 Just a reminder that the Asda Baby & Toddler Event starts online tomorrow! Although Tesco have started their Mother & Baby Event this week, from the offers we have been looking at it looks like the Asda one will be bigger, and with better prices too. (Sorry Tesco!)
You can shop online at for the offers from Saturday 17th January, or the Baby & Toddler Event will be in stores from Monday 19th January. As we are writing this the offers aren't live, but from Saturday you'll be able to see them using the link below.
Here are a few of the offers we know about already:
Tommee Tippee Explora Blender - was £19.97, now £10.
Tommee Tippee Perfect Prep Machine - £59.98.
12 Packs of Huggies, Pampers or Johnson's Baby Wipes - £7.97.
Johnson's Baby Skincare Essentials Box - £10 each, or 2 for £16.
Tommee Tippee Closer To Nature Complete Starter Kit - £59.98.
Tommee Tippee Closer To Nature Colour My World Bottles - was £32, now £9.81.
Cozy 'n' Safe Car Seat - was £40 now £20.
Mamas & Papas Barnie Buggy Including Footmuff - now £60.
Mamas & Papas Venture Car Seat - was £70, now £50.
Bright Starts Safari Walker - was £40, now £27.
Munchkin Travel Booster Seat - £12.
Tommee Tippee Closer To Nature Video Monitor - was £180, now £90.
Deluxe Baby Bather - was £16, now £10.
Some of the Tommee Tippee items are already available at the lower prices now as 'Early Bird' offers, and they are the best prices you can get for them...except that Amazon seem to be matching Asda, which is great news.
The offers listed are ones that were on the promotional leaflets sent out to some members of the Asda Baby Club, but there will be many many more.
The promotion covers Changing and Feeding Essentials like wipes, food, bibs, nappies, Nursery, Travel and Toys.
Thanks to bargain1girl, saffy786, sanju1991 and NASHJ @ HUKD.