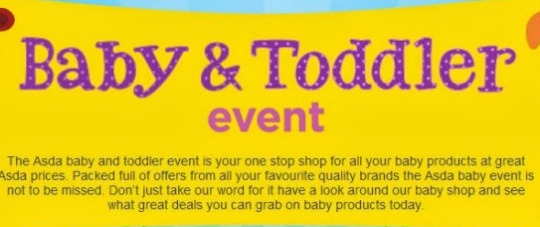 As above the Asda Baby and Toddler Event will kick off on line on the 23rd of August and in store two days later on the 25th.
I can't see anything online about this one at the minute but if you're a member of the Asda Baby and Toddler club, you may have received the info on this one by post this morning.
There's loads of things in the booklet as you'd expect and some are (as always!) better than others.  The big packs of Pampers (31-52 packs) will be £6, while the boxes of Pampers will be £11. The 12 pack of Huggies wipes will drop to £8.
Other items that look good to me are the Graco Junior Car Seats down to £20 from £35, the Mamas and Papas Barnie Buggy at £60, Summer Infant Bed Rails will be £15, while the Lindam Extending Metal Gates/Lindam Sure Safe Lock Gates will be £17 each or two for £30.
They'll have the usual array of bouncers, playmats and toys on offer as well as feeding accessories and cups. Laundry items will be included too, notably the 30 pack of Fairy Non Bio Liquitabs will be half price at £5, while the Comfort pure 3L will be £3.50.
Just a note that if you did receive this booklet from Asda today, check the back page where there's a voucher for a free pouch of Ella's Kitchen Baby Food with ANY (think coffee) at Asda cafes. If you're not a member but would like to join, you can do that here*.
Why not check out our blog on baby freebies, vouchers and clubs too?