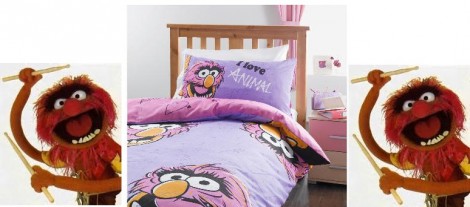 Tesco are selling this Animal duvet set for £5.50 instead of £11.00 at the moment.
I adored The Muppets as a child; it was one of the few TV programmes that everyone deliberately sat down to watch and if it was still on TV today...I'd still deliberately sit down to watch it.
I couldn't stand Miss Piggy, she irritated me; I always had this 'thing' in the back of my mind that Kermit was a bit of a wimp; Fozzy Bear was cool; Statler and Waldorf - the two grumpy old dudes in the balcony - were hilarious but the absolute coolest Muppet of all was Animal.
He played those drums like no one on earth and was so unpredictable and, well, just...animal like and I'm sure it was wrong to get quite so excited about this Animal duvet set at my age, but I did.
The Animal duvet set is made up of a single duvet cover and pillowcase, both featuring the words 'I love Animal' and, of course, a picture of Animal himself.
The base colours are pink and purple so, probably, more suited for girls and is made from 52% polyester and 48% cotton.
It can all be machine washed and tumble dried, but it's really not going to take long to dry hanging on the line or over a radiator in winter.
Collect in-store for free otherwise you'll be adding £5 for home delivery.
Thanks to dave1961 at HUKD