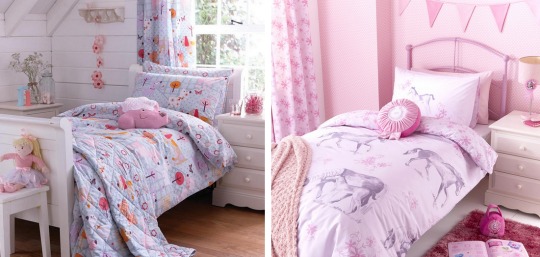 Dunelm have 30% off a wide range of their products at the moment, and if you are looking to freshen up a girl's bedroom then there are some great buys. Both the Fifi And Friends and the Pink Ponies Bedlinen Collections are on offer with reductions on bedding, curtains, cushions and more. There aren't any boys sets that I can see on offer online, but as the promotion is in stores as well it's worth keeping an eye out when you next visit.
In the Fifi and Friends range the Junior/Cot Bed Duver Set is £6.29, and the Single Duvet Set is £6.99. There's a rather beautiful bedspread now down to £17.49, and matching blackout curtains now start from just £24.49 - that's one to think about with the evenings getting brighter! There are also matching cushions, canvases, shelves and more all in the same design and all with 30% off.
The Pink Ponies Collection has an even bigger reduction on it's items. There is a Single Duvet Set for £6.99, and a Double Duvet Set for £10.49 and the Blackout Curtains are now from £27.99. There are more accessories available in this collection, again all reduced by at least 30%. You can choose from a throw, cushion, bunting, money box, door stop, canvas and shelves, all in the matching design.
Availability looks very good on most items in the ranges, and when you check stock on each it will tell you whether it is available for home delivery in your area and which of the nearest 5 stores have any stock. You can reserve and collect for free, or home delivery charges are from £3.95.
If your little ones like pink or ponies then they are going to be very happy with these sets!