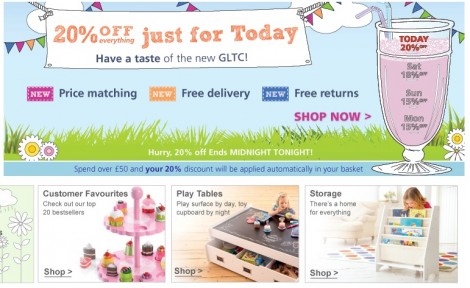 The Great Little Trading Company has relaunched. It is now doing free delivery, and returns. Also, for Friday only, it is 20% off everything when you spend £50 or more. On Saturday this drops to 18%, and then 15% on Sunday and Monday.
I have bought a few items from here over the years. They do really lovely, nicely designed and built furnishings for children's rooms as well as accessories. The site also sells toys and games.
One of my favourites is this Sling Bookcase. It costs £55, but looks simply beautiful. And is practical as well, perfect for displaying all the large books they get at the pre-school age. I didn't have one, but my best mate did. These books don't sit particularly well on an ordinary book case - you find that the kids pull them all out in order to just find one. Here they sit flat so they can just slide them along to see one underneath, and the bookcase sits flush against the wall.
I also really like the play and store table that they sell on the site. I never brought it as I thought that at £195 it was a bit expensive. If I'd known how much children love to spread their toys out on a table, and how they don't really grow out of that, I'd have invested in something more substantial than the little table we got from Ikea. Also, from the parent's perspective, it means they can leave all their creations and games out ready to pick up later, but you can still clean the floor!
There are lots of other stylish storage solutions on the site, and I had better warn you, it is easy to spend hours browsing!