15% Off Everything @ Towels R Us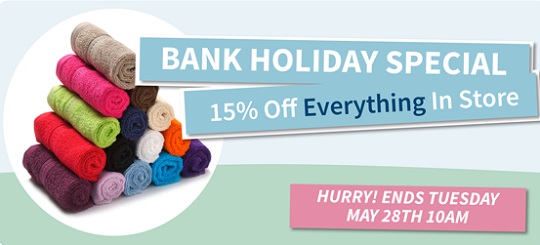 Towels R Us has reduced everything in their store by 15% as part of the Bank Holiday fun. You can get towels, bathrobes, personalised gifts, bedding, bath linen, kids stuff and cool home living things all at a tasty 15% off.
The 15% off special offer ends on Tuesday 28 May so you will need to get shopping in the next few days to take advantage of the discount. I love the picture of the bathrobes, they look so warm and comfortable, yum.
There are Egyptian Cotton bathrobes from £49.95, velour beach towels from £7.95 and novelty golf towels from £8 each. Not sure I would ever buy a novelty golf towel personally, although I am sure there are people who find these interesting.
The site also offers personalised gifts so you can buy a gorgeous set and have names branded on everything to make it truly special. That's a lovely wedding gift right there actually, or a Father's Day gift if you're wondering about that?