Yo Gabba Gabba Duvet Set £4.99 @ Play.com

I won't even pretend that I know what, or who, Yo Gabba Gabba is, but £4.99 for a Yo Gabba Gabba duvet set seems like a cracking price to me.
Right, a quick bit of Googling has revealed that it was nominated for a Daytime Emmy Award for Outstanding Achievement in Costume Design/Styling, and has had a fair few big names making guest appearances - Jack Black, Elijah Wood, Sean Kingston and Tony Hawks to name just a few.
It would also appear that, despite being intended for young children, Yo Gabba Gabba has gained somewhat of a cult following among students and parents too - this would explain the comment over on HUKD lamenting the fact there isn't a kingsize version!
Who'd have known!
The Yo Gabba Gabba duvet set is 50% cotton and 50% polyester, can be washed at 30 degrees and bunged in the tumble dryer - although 50/50 cotton and polyester things tend to dry in a flash on the line I find.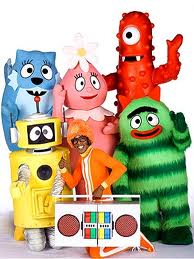 Play have reduced it from £12.99 down to £4.99 and if you REALLY wanted a king size version you could always  take the advice of others on HUKD, buy more than one and sew them together to make a big one.  Or even buy a few and turn the others in to curtains.
There are some bright sparks over there you know!
Thanks to plumberman01 over at HUKD