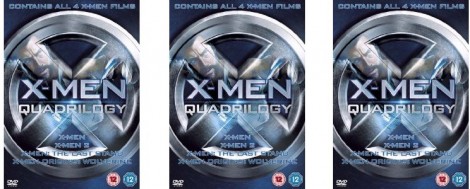 I'm sure you haven't wondered what the 'ilogy' after trilogy is, but now you know and you also know that you can pick up the X-Men quadrilogyfor a mere £7 at Amazon.
I'm a closest superhero wannabe; it would be awesome to have special powers and be different from everyone else, I'm not sure which super power I'd like to have most so I'd settle for all of them and be one MEGA hero!
I love the X-Men films, so do all of my children - the Teenagers and youngest alike - although I bet they don't like them because they have a bit of a thing for Patrick Stewart, his lovely voice and the rather scrummy Hugh Jackman.
In the X-Men quadrilogy box set are the first four films: X-Men, the originally titled X-Men 2, X-Men the last stand and X-Men Origins.
There is a new X-Men film at the cinema but you'll have to wait a fair while before you'll be able to buy the X-Men Qunitilogy.
If you're an X-Men fan who doesn't yet own the movies, this is a great way to get hold of all four of them for a seriously good price (in my opinion).
All the usual Amazon warnings and delivery options apply: prices can increase and decrease at their whim, delivery is free with the supersaver option or you can pay to have it delivered to you faster.
Thanks to godofwar7 at HUKD