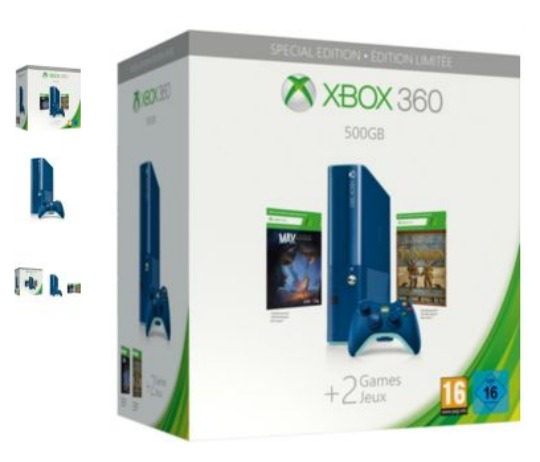 A lot of you may be looking for an Xbox One, however if like me your children aren't very old, then you may wish to buy them the Xbox 360. It is one of the most successful gaming consoles of all time. My boys have one between them but the fighting is unreal, I am on the lookout for a second one and this is just the ticket. It's has 500GB storage and a special edition in the colour blue for just £179.99. This includes two games FREE but please check the age restrictions on these before allowing your children to play them. By the looks of it, it is sixteen years old.
The Xbox 360 may have a brand new brother console but he is in no way as popular yet, and there's still longevity in this one. You get one month FREE of Xbox Live, you will need this as it links your children up with others and they just love to scream and shout with their mates, I can assure you of that. The two games included are Toys Solders and Max: The Curse of Brotherhood. You also get one controller and one headset.
Reserve and collect the Xbox 360 500GB Special Edition Blue Bundle from your local Argos for FREE or pay £3.95 for delivery. Argos are giving away a £10 voucher when you spend £100 or more, so you should also get one of those with your purchase.
Thanks to xrach14x @ HUKD