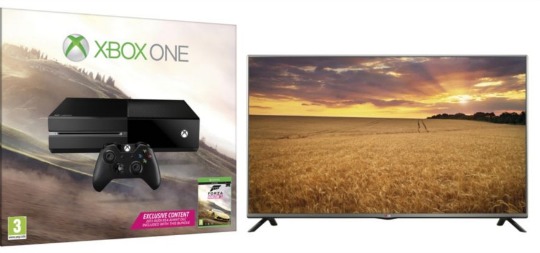 This is for all of you that are desperately trying to find an affordable Xbox One. I am sure I don't have to tell you that this Xbox One package (with Forza) will set you back around £349. Tesco Direct are offering a smashing bundle for just £499, which includes an Xbox One with Forza Horizon 2 AND an LG 42" Full HD LED Television. Right so £499 minus £349 for the Xbox One equals £150 for a television that would cost you £299 if bought separate.
Right, here's the not so good news. It's such a good offer that you will struggle to get it online. We are watching it like a hawk, but you will need to be vigilant too if you wish to purchase this. We have it on good authority that this deal is available in the bigger Tesco stores. If you are absolutely desperate then I'd suggest checking out your local Tesco Extra.
Whilst, I appreciate that this deal might not suit those who just wish to buy the console, it is great if you need to buy two BIG presents, like a TV and an Xbox One.
Keep your eyes peeled and we will post this deal again when the Xbox One comes into stock!
Thanks to Chanchi32 @ HUKD