WIIU BASIC/JUST DANCE 2014/NINTENDOLAND/NEW SUPER MARIO BROS U BUNDLE £149.99 Delivered @ eBay Seller ShopTo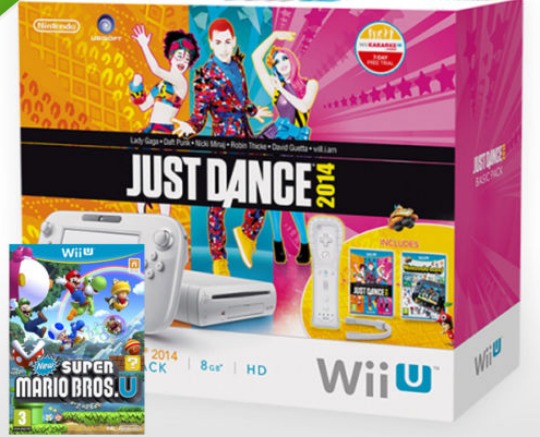 Are you after a console for the whole family to share? Here is a cracker of an offer on the Wii U Just Dance 2014 Bundle from eBay Seller ShopTo. Get The Wii U console, with THREE games: Nintendoland, Just Dance 2014 and New Super Mario Bros for just £149.99. That's an incredible price for all of this.
I don't know about you but I associate games consoles as an anti-social pastime. Since the original Wii was released I must admit, it can really be an activity enjoyed by the whole family.
This particular Wii U console comes with THREE bright and cheery games, so you don't need to worry about whether they are brimming with sex and violence. Some of the Xbox games have me aghast and I am no prude.
Along with the THREE games you get : Wii U Console White, 8gb Internal Flash memory, Wii U GamePad White, Wii U GamePad Stylus, Wii U GamePad Cradle, Wii U GamePad Stand, Wii U AC Adapter, Wii U GamePad AC Adapter, HDMI Cable (1.5m) and a Sensor Bar. There's certainly plenty there for your buck.
Thanks to ettienem1001 @ HUKD