The Best Of The Wiggles DVD £2.55 @ Tesco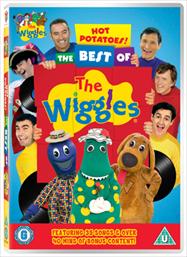 This' 'The Best of the Wiggles' DVD is either going to be one that you love, or one that you come to LOATHE; either way, your little one is just going to LOVE IT!
If you've never heard of The Wiggles, let me enlighten you. 
They are a group of Aussie guys who sing and dance and they are MASSIVE!  Well, they're not massive personally (they're quite skinny actually) but The Wiggles franchise is MASSIVE; they are worth an absolute fortune and kids, and some parents, completely and utterly adore them.
They are one of those strange phenomenons where you just have NO idea how they got to be so popular.
Their music CDs go gold and platinum, they've recently been on tour and their performances at Madison Square Gardens, in New York, and the Hammersmith Apollo here at home were sold OUT.
The songs on this DVD include: 'Hot Potato', 'Wake Up Jeff!', 'The Monkey Dance', 'Tie Me Kangeroo Down Sport', 'The ZeeZap Song', 'You Make Me Feel Like Dancing', 'The Shimmie Shake!' and 'Over In The Meadow'.
The published price on the Tesco Ent' website is £3 but if you enter this code - FTSL15-1 - it'll drop down to £2.55 and there's no delivery to pay, so £2.55 is all you need to part with to get wiggling with your little one.
Thanks to lucerysmum over at HUKD!