Trespass Swift Pattern 200 Two Person Pop Up Tent £42.99 @ Play.com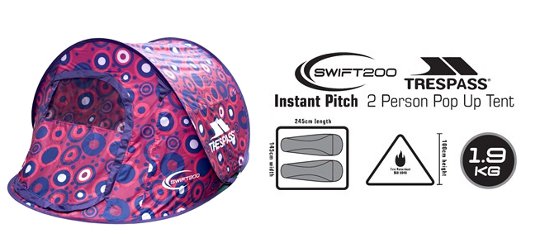 Play.com have offered a Trespass Swift Pattern 200 Two Person Pop Up Tent for £42.99 instead of £69.99 for Easter Weekend only, saving you £27.
This tent will lead to one of two things happening at whatever festival you take it to: you'll never not know where your tent is, or you'll get into someone else's if they have the same one!  It's colourful and bright and should certainly stand out amid the field of plain coloured temporary accommodation!
Apparently the Swift 200 is the ultimate in lazy camping: You open the portable carry bag and the tent assembles itself.
This is a 2 person tent, with ventilation flaps, a waterproof scoring of 1500mm and taped seams. While it doesn't require ropes and pegs, it's recommended if you're camping in a windy spot, and comes with them included.
In my experience with pop up tents it's the packing up that's a little harder, so this comes with instructions on how to do that too.