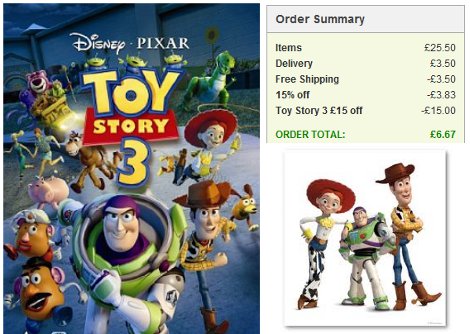 Toy Story 3 is on sale at Marks and Spencer. Originally £22.50, plus £3.50 delivery, it is now available for £10.50. But with a code for free delivery and a possible additional 15% off, it could cost as little as £6.67. Confused? Me too!
Woody and Buzz and friends may well have accepted that Andy has grown up, but really, you don't have to accept £25.00 for a DVD!
With £15.00 off the cost of the Toy Story 3 DVD, it's already a great saving, but forsome people at HUKD, myself included there's been an additional 15% off at the checkout for no apparent reason. I've searched and searched to find where the additional 15% has come from, but it seems some people have just had it added to their accounts.
There's also a FREE DELIVERY code which can be added to the discounted DVD and the 15% off, saving an additional £3.50.
Promotional Code: Perweb02
Discount: Free Delivery
Expires: Unknown
The discounts will be shown at checkout.
I'd move quickly on this – I can't imagine it'll be available for very long, and at this price stocks will move quickly too!
Thanks to Plumberman01 at HUKD