Toy Story 3 Buzz Operation £7.99 @ Amazon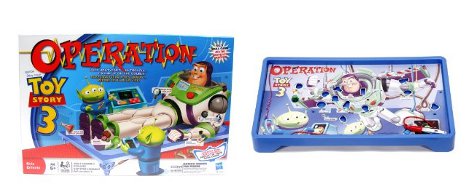 This Toy Story edition of the classic game of Operation is £7.99 at Amazon, a 50% discount on the original £15.99
I remember regularly visiting a kid in hospital when I was a child myself, and we always played Operation. I don't know why, but it was his favourite game, so there you go – we played Operation every time we visited. I didn't know they did a Toy Story version, but this one looks quite fun.
You  get to fix Buzz Lightyear's body parts, but if you tap the sides, Buzz Lightyear will have an asteroid attack and you'll hear his laser sounds.
The set includes a storage drawer too store all of Buzz's parts.  Also included are tweezers, 24 cards, 12 plastic anatomy parts, play money and a gameboard with Buzz the Patient.
Yip, that sounds different to the game we played at the hospital too – in this version, the cards have tasks on them, which tells you what piece to extract. If you do the extraction correction, you win the play money. Some of the reviewers think its even better than the original game, but others say it's too hard for a child.
Thanks to lucerysmum at HUKD