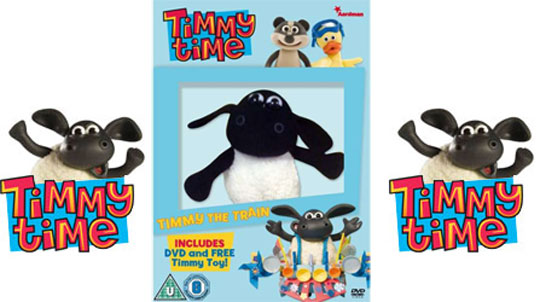 We haven't had a good Timmy Time deal for a while, so its' rather nice to see him back. If you pop over to Zavvi you can pick up a Timmy Time: Timmy the Train DVD plus a plush Timmy toy too, all for £3.95 instead of £12.71.
I love Timmy, but then Shaun the Sheep (of Wallace and Grommit fame) was one of my favourite characters too.
Quite how the animators manage to convey such comedy expression on a faces with limited features is beyond me.
Timmy, if you didn't know, is Shaun the Sheep's nephew and he first graced the small screen three, or so, years ago - I remember watching the first one with my youngest, who's five now, and we  both loved it.
As the theme tune goes, "...he's a little lamb with a lot to learn."  This is very true and the Timmy Time episodes follow Timmy and his pre-school friends as they discover all sorts of things about sharing and doing the right thing at the right time.
It's not remotely patronising though and Timmy and pals are rather cheeky; a perfect blend of comedy and 'teaching' for youngsters, in my opinion.
There's no delivery to pay with Zavvi and the delivery time for this Timmy Time DVD is currently being stated as 'usually dispatched within 10 days', so a bit of planning ahead might be in order if you need this soonish.
Thanks to andywedge at HUKD