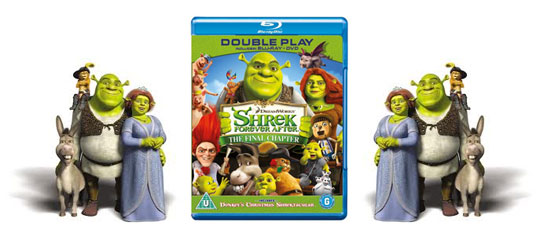 You can bag yourself a copy of Shrek Forever After on both normal DVD and Blu ray for just £8.39 if you pop over to Zavvi.
There aren't many film franchises that have an original, sequel and sequels after that that I haven't seen all of, but I have to confess I rather lost interest in Shrek after the second one.
I don't know what it is that's turned me off them because I thought the second movie was just as good, if not better, than the first one; perhaps I just haven't been in the right place at the right time to watch it.
I can reliably inform you though, based on what others have said, that it's well worth watching and if you like owning complete sets of movies then it's well worth adding to your Shrek collection too.
Two discs, one standard and one Blu ray, for just £8.39 is a bit of a bargain if you ask me, especially when you consider the full price should be £27.99 - it could mean one copy for the kids to put their finger prints on and one to keep for the HD TV and out of harms way.
There's no delivery to pay with Zavvi and, if they sell out, The Hut are also running this deal too.
Thanks to merb0786 at HUKD