Shrek is one of those creations that just works for young and old alike
J u s t in case you have no idea who Shrek is (and how is that possible? Have you been living on Mars....?), Shrek is an big green ogre who lives in a land called Far Far Away.  His best friend is a donkey and Princess Fiona is also an ogre; the Fairy Godmother isn't really a lovely old lady, she's a power-hungry nasty piece of work and her son, Prince Charming, is a self-absorbed narcissistic 'dude'.
I have to say that Shrek 2 is probably my favourite of the three movies.  Jennifer Saunders as the Fairy Godmother is just a genius piece of casting and Shrek in human form really does look alarmingly like a non-haggard Gordon Brown.
This 2-disc special edition box set is an absolute fairytale for Shrek fans - give it to them and they'll live happily ever after.
Firstly, the packaging SPEAKS!  "Push the 'press here' on the outer sleeve and you'll hear the unmistakeable tones of Eddie Murphy as Donkey say, "Shrek and Donkey on another whirlwind adventure!"  his mouth lights up too.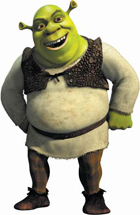 Then there's a ton of  bonus specials or 'featurettes' as they seem to be called these days  among them:
Technical goofs - there aren't many people who don't enjoy outtakes and seeing where things went wrong!
'The Tech Of Shrek 2' featurette
'Meet Puss In Boots' featurette
Over 15 games and activities including 'Save Fiona' and 'Find Puss In Boots'
Music video from Counting Crows
Sing-a-long with the Fairy Godmother
'Puss In Boots' music video
Lessons in burping from Shrek and Fiona - uh oh, brace yourself for an outbreak of burping across the land!
'The Making Of The Far Far Away Surprise Ending' featurette
The rrp on this box set is £27.99 so to be able to buy it for £4.85 really is a happily ever after deal!
Thanks to andywedge over at HUKD!