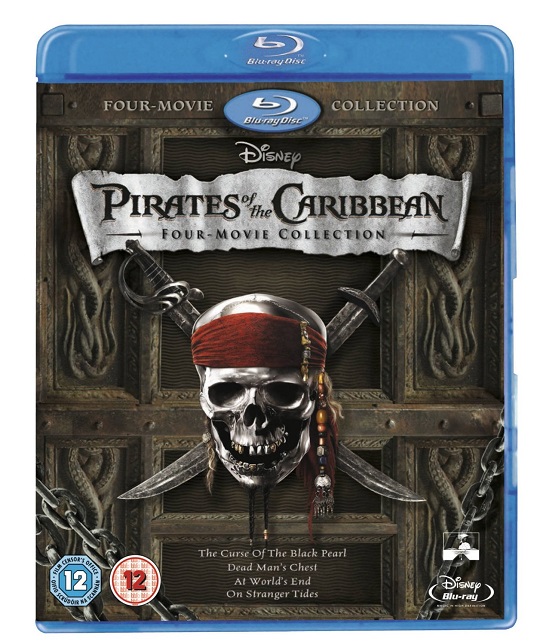 Amazon is selling the rather brilliant Pirates of the Caribbean collection on Blu-ray for only £16.18. That is a seriously good price for four movies that are really funny. Although, some of them are not as good as the first one and it is very sad to miss lovely Orlando in the last one.
Pirates Of The Caribbean: The Curse Of The Black Pearl: Jack Sparrow (Depp, in an Oscar nominated performance) and Will Turner (Bloom) brave the Caribbean Sea to stop a ship of pirates led by Captain Barbossa (Rush), who intend to break an ancient curse using the blood of the lovely Elizabeth Swann (Knightley).
Pirates Of The Caribbean 2: Dead Man's Chest: Captain Jack Sparrow (Johnny Depp) is mortified to discover he owes a blood debt to the legendary Davey Jones, captain of the ghostly Flying Dutchman. With time running out, Jack must find a way out of his debt or else be doomed to eternal damnation. And as if this weren't enough, his problems prompt the cancellation of the wedding plans of a certain Will Turner (Orlando Bloom) and Elizabeth Swann (Keira Knightley), who are forced to join Jack on another maritime misadventure.
Pirates Of The Caribbean 3: At World's End: In the third installation of the ever-popular Pirates series, Pirates Of The Caribbean: At World's End, we find our heroes Will Turner and Elizabeth Swann allied with Captain Barbossa in a desperate quest to free Captain Jack Sparrow from his mind-bending trap in Davy Jones' locker. Navigating through treachery, betrayal and wild waters, they must forge their way to exotic Singapore and confront the cunning Chinese pirate Sao Fen (Chow Yun-Fat).
Pirates Of The Caribbean 4: On Stranger Tides: Johnny Depp returns to his iconic role of Captain Jack Sparrow in an action-packed tale of truth, betrayal, youth and demise. When Jack crosses paths with a woman from his past (Penelope Cruz), he's not sure if it's love or if she's a ruthless con artist using him to find the fabled Fountain of Youth. When she forces him aboard the Queen Anne's Revenge, the ship of the formidable pirate Blackbeard (Ian McShane), Jack finds himself on an unexpected adventure in which he doesn't know who to fear more: Blackbeard or the woman from his past.
Thanks to craigwhitlow at HUKD!