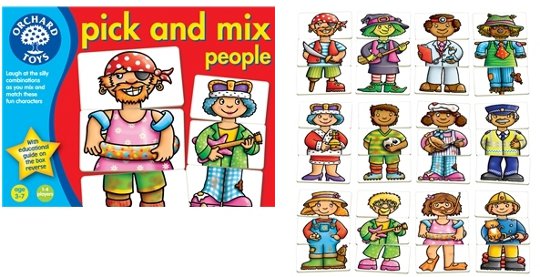 Pick and Mix People from Orchard Toys are currently £5 at Play.com, which is a £2.50 saving on the £7.50 RRP.
I've been searching high and low for activities to have lined up to keep my two year old busy during the labour and birth of our new baby, and the days that follow. I'm pretty sure we'll get in the swing of things quickly, and life will soon adjust to the 'new' normal, but in the meantime I need to make sure there are plenty stationary and sedentary things I can do to help her stay occupied.
I thought these Pick and Mix People from Orchard Toys could be loads of fun and a good laugh, and because of the wide age range, something she could really grow into!
The set comes with 12 characters split into three parts each – head, body and feet. So that gives you 36 cards to play with and talk about. You can match up the people with the right parts, or have a good laugh with your mix and match characters. There's also an educational guide on the reverse if you want to make it more than a game!