Peppa Pig Pop-Up Cube Tidy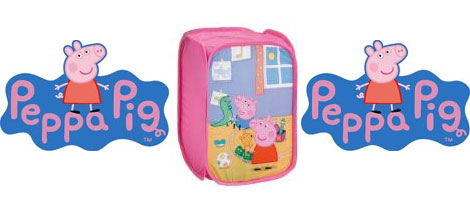 If you have a Peppa Pig fan in your house, then the age-old 'what to put all the new Christmas toys in' question will  be nicely solved with this Peppa Pig Pop-Up Cube Tidy.
I love fun and functional things like this Peppa Pig Pop-Up Cube Tidy - it's all pink and Peppary which your little fan will adore AND because of that, touch wood, the agony of trying to get your child to put their toys away should be relieved...even if only temporarily until the novelty wears off!
It's made from polyeseter so it can be wiped clean as and when necessary, and its dimensions are:  (H)44, (W)29, (D)29cm
Not huge, but then huge toy boxes/storage things are a pain!
All of the small toys fall through to the very bottom and you end up having to take everything out to get to them - so I've found that a few smaller toy storage solutions is far easier to manage and maintain, both for me and for the kids.
The retail price shoud be £6.99, but Play have knocked a couple of quid off for PRE-ORDERS of this Peppa Pig Pop-Up Cube Tidy, and letting them go for £5. They are due for release on Friday 26 November and I have no idea whether the £5 price will be maintained.
Thanks to hsg over on HUKD