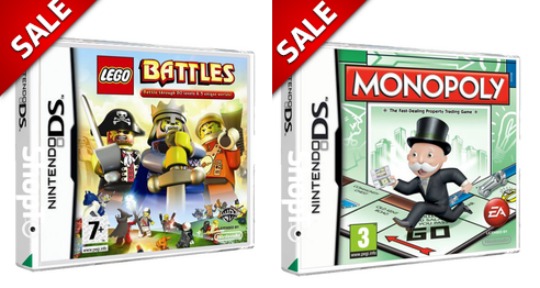 EDIT: 17/01/15  The Following are back in stock: The Sorcerer's Apprentice £1.85, Cars 2 £2.86, Lego Battles up a little to £5.86.
If your kids got a Nintendo DS for Christmas, or already had one, then there are some massive bargains on games for them at the Shop To sale. How does 89% off with Free Delivery sound? I know!
There are three games at £2.86, and three more at 84% off which works out at £3.85 each, and with Free Delivery on top you can't buy these second hand for this type if price - I would hurry if I were you!
The three games now selling for £2.86 are Monopoly*, Harry Potter and The Deathly Hallows Part 1*, and Moshi Monsters Moshlings Theme Park*.
The titles available at £3.85 each are Lego Battles*, Cars 2*, and Disney Planes*.
All these games were £24.99 each, so to get them at such big reductions is pretty amazing. The website is running a little slow, as demand is so high right now, but orders are going through and stock is available on all these titles at the moment. If you are buying for children please be aware of the certificates on the games, as the Harry Potter on isn't suitable for under 12's.
I'm not an expert on gaming systems in the slightest, but with the help of google and listening to my husband (some of the time) you can play these DS games on the 2DS and the 3DS, as they are backwards compatible, but if you are unsure please check before you buy.
Thanks to Lomi @ HUKD.