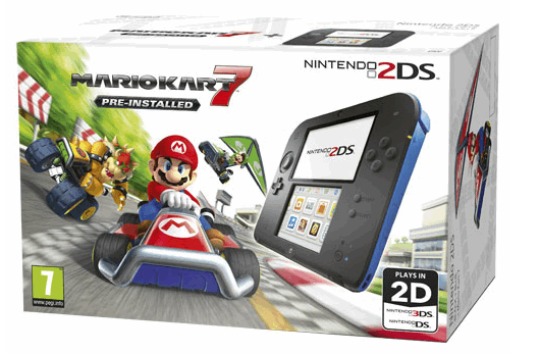 If you are after a 2DS for your kids then this is the best price I have ever seen for a new one. Game are selling the Nintendo 2DS with Mario Kart 7 pre-installed at the amazing price of £79.99. Just before Christmas this package dropped to £109.99 and that was such a great bargain, so I don't really have words for this one!
The new 3DS is coming out in February so there are some great deals about for the older Nintendo consoles at the moment. If you are on the look out for a birthday present you can get these at amazing prices now.
This is a great handheld console to start young gamers with as it is very easy for youngsters to use and is good and sturdy (it's been dropped a few times already). It doesn't have the 3D capacity of the 3DS, but children younger than 7 are advised not to use that function I believe.
Although this comes with Mario Kart 7 already installed, you can get games fairly cheaply, if you don't mind using older games. You can use DS, 2DS or 3DS games with this console, all are compatible, but the 3DS games will only show in 2D. If you want cheap DS games to build up a catalogue then Argos currently have them from £1.99.
Thanks to RandyChimp @ HUKD.