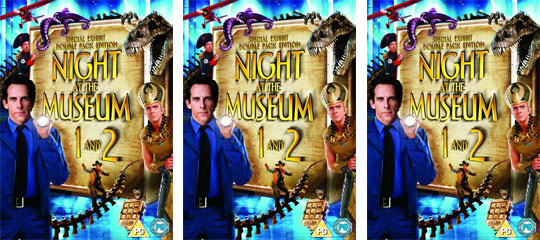 All of my children, even the teenagers, love these two Night at the Museum movies - if you like to own movies then you might want to consider adding these to your kiddie collection, if you don't already have them; £2.95 for the two of them is a bit of a bargain.
If you've not seen either of these (and I haven't seen the second one) then the basic premise is this: Ben Stiller is a night security guard at a museum and soon discovers that everything comes alive after dark!
It's silly, it's funny and kids love it - even some adults I know think it's just hilarious.  It should be as it stars Robin Williams, Owen Wilson, Ricky Gervais and Steve Coogan to name just a few of the cast - mind you, if you don't like their style of humour it might get on your nerves a little bit.
Chaos, naturally, ensues as soon as the sun has gone down and Ben Stiller's character, Larry, has one helluva job trying to get everything looking normal in time for the museum to open its doors in the morning.
Delivery is freeee, so you there's nothing extra to add to your hard-earned £2.95.
Thanks to lucersymum at HUKD