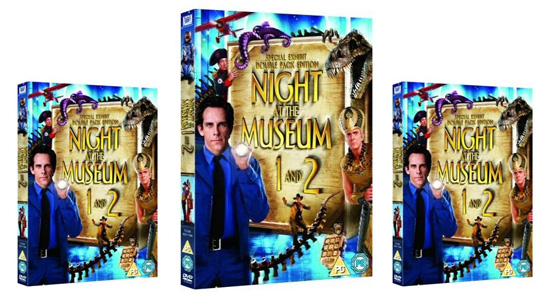 If you're looking for something for the kids to watch that's fun, easy and will make them chuckle then you might want to take a look at this two disc Night at the Museum 1 and 2 DVD collection.
I don't think I've seen all of Night at the Museum and I've only seen a couple of minutes of Night at the Museum 2 however, I am reliably informed by my 16-year-old teenage daughter that both films are very funny and will definitely be a big hit with younger children.
I do know the basic plot line behind the movies though - Ben Stiller is a night security guard at a museum and when all the lights go out all the exhibits come to life and start causing chaos, which he has to clear up an sort out before the museum opens again in the morning.
From the brief bits I've seen it does look rather amusing and has that magical 'things coming to life that really shouldn't' element to it, and you won't go far wrong with the price for these two movies either as Play are selling the pair of them for £4.99.
If you're really pushed for presents and are prepared to throw delivery cost caution to the wind then you could still get these Night at the Museum movies delivered to  you before Christmas, but you're going to have to order them today.
Thanks to ettienem1001 at HUKD