In The Night Garden DVDs £9.93 @ Amazon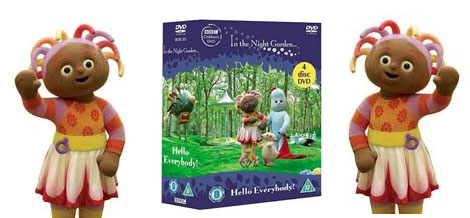 Now you can have Iggle Piggle and Maka Paka on demand with these four In the Night Garden DVDs that make up the Hello Everybody! box set.
It took me a g e s to get my head around In the Night Garden.  I just didn't get it!
BRIGHT colours, broad daylight and crazy frenzied capers from Iggle Piggle, Upsey Daisy (they are SO girlfriend and boyfriend, I don't care what anyone says!), Makka Pakka and the Tombliboos; rather than the dusky evening scenes and quiet bedtime stories, read by someone like Bernard Cribbins, that I was expecting.
If you've never experienced In the Night Garden before then you must! I feel it should be a 21st century parental right of passage!
It's either been written by absolute geniuses whose cleverness with kids programming is THAT good that it goes right over my head, OR they are just completely bonkers – perhaps it's a bit of both.
And just watch out for Amazon's up and down price-shifting - that's almost as bonkers as the Night Garden itself!
These In The Night Garden DVDs have over nine hours of In the Night Garden fun to enjoy and are currently a much nicer £9.93, having been reduced from a fairly hefty £22.99.
Free delivery, and all that Makka Pakka malarky, with the SuperSaver deal too!