In The Night Garden DVD Box Set £9.99 @ Amazon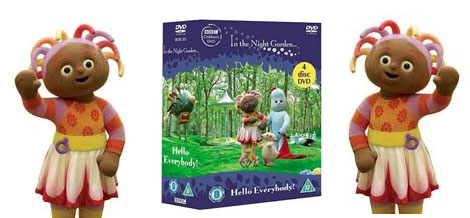 All aboard the Pinky Ponk! Amazon are selling this In the Night Garden: Hello Everybody! DVD box set for £9.99 insteadof £22.99
If you've never seen In the Night Garden then I'd like you to go and watch a couple of episodes, then come back and explain it to me.  After three or so years of watching it, I still don't get it.
I was expecting dusky evening scenes and quiet bedtime stories, read by someone like Bernard Cribbins but NO! What I got instead was BRIGHT colours, broad daylight and crazy frenzied capers from Iggle Piggle, Upsey Daisy, Makka Pakka and the Tombliboos.
By all accounts In the Night Garden is the product of extensive research into how young children learn, watch and play and In the Night Garden ticks all those boxes; programming genius then...I still don't get it, I think it's totally bonkers.
These In The Night Garden DVDs have over nine hours of In the Night Garden fun to enjoy and if you manage to bag a set at the lower price of £9.99, before Amazon start messing around with the price, then I'm sure you'll enjoy that too.
Free delivery, and all that Makka Pakka malarky, with the SuperSaver deal too!
Thanks to muzhaque at HUKD