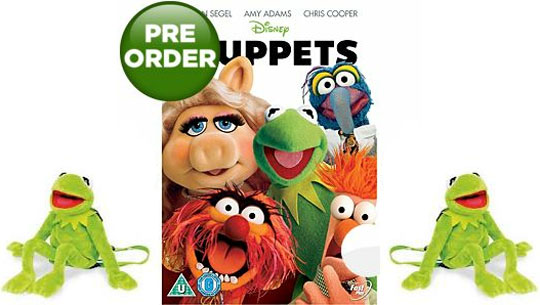 Right, you're going to need to get your skates on if you want to pick up a copy of The Muppets Movie and get a Kermit the Frog back pack too, because the back pack is subject to availability - so no dawdling or umming and ahhing if you want it all for £10.01.
I say 'stake your claim' because the release date for The Muppets Movie on DVD isn't until this coming Monday (11 June) - Asda have a pre-order price promise in place, which could suggest that the price might be going up, OR it might just be a marketing ploy to get orders in early <----- cynic? ME?!! Nooooo, surely not!
I adored the Muppets when I was little, I'm still rather fond of them now if I'm honest - the Swedish Chef always made me laugh (and still does), my mum had a soft spot for Fozzy Bear and Sam Eagle the news reader (and still does).
I do have a Muppet confession to make though, and it's a controversial one, I never really warmed to Kermit and as for Miss Piggy...well, put it this way, the only way I'd like her is if she was grilled and between two slices of soft bread with tomato ketchup!
Now delivery is going to be between three and five days after the release date, so don't expect your copy of The Muppets Movie to arrive before Thursday 14 June; delivery is free too, by the way.
Thanks to ksimm at HUKD