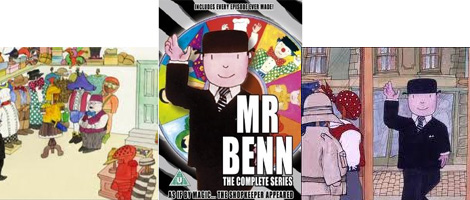 Children of the 70s rejoice! Mr Benn the Complete Series is on DVD and Amazon have reduced the price from £9.99 down to £3.93.
"As if by magic the shop keeper appeared..." that was always my favourite bit of Mr Benn.
I loved all the little five minute programmes that were on at 5.55pm just before the six o'clock news - some of them are also available on DVD, like Ivor the Engine (do you remember him?!)
If you're too young to remember Mr Benn this DVD might not do anything for you at all.  From memory, and this really is going back a fair few years, there was no actual animation at all, well not what you automatically think of when we talk about animation these days.
Mr Benn is a City gent who wears a pinstripe suit and a bowler hat. On his way home he always pops into the fancy dress shop - whenever he goes into the changing room to try on a costume, he ends up going on amazing adventures.
The episode that has stuck in my head for years is the one where Mr Benn tries on a suit of armour, he ends up becoming a knight and fighting a dragon...it's funny the things we remember.
This Mr Benn complete series DVD should retail for £19.99 but is up for grabs for a fabulous £2.99.
Thanks to babymanor over at HUKD!