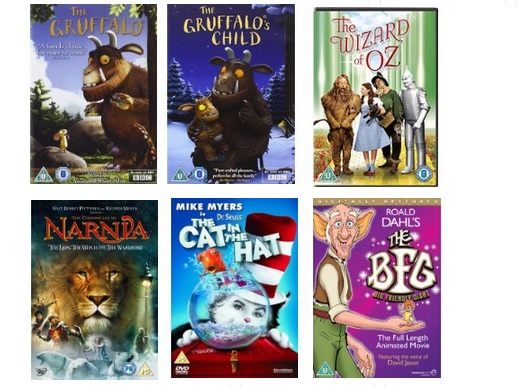 If your child needs a recap on some of the classic movies before World Book Day, you may be able to motivate them with a movie - I've found sometimes when a book is a little advanced for my daughter, watching the movie can be a good way to get her excited about the book itself. We recently had this with The Lion, The Witch and the Wardrobe. My daughter is five, and she thought the book looked boring, owing to the fact that there are no pictures, but the movie happened to be on TV a few days later, and she was enthralled. Soon after, The Lion, The Witch and the Wardrobe became a favourite bed time story.
Some of these include The BFG Digitally Restored Edition* which is currently £3.50, and the The Gruffalo* DVD is £4.50, as is The Gruffalo's Child*. 
And speaking of The Chronicles Of Narnia - The Lion, The Witch And The Wardrobe* it's £4.01 - it seems to be over £9 everywhere else.

Of course the book is (almost) always going to be better than the movie, but it's a great way to get children to understand what's happening in the books, sometimes - and if you don't have the time or inclination to read a story that they may need for World Book Day, it's always nice to have a cheat up your sleeve as a parent!