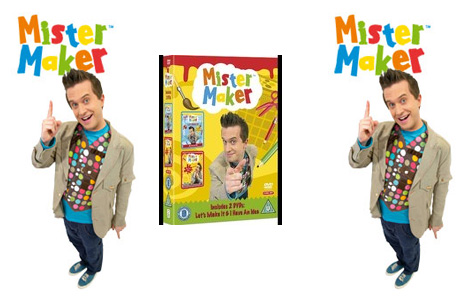 Zavvi are currently selling a double pack of Mister Maker DVDs for £4.85.
I've had a quick look around and you can also buy for £5 from Zavvi, £4.99 from the BBC shop - but you'll pay £2.95 for delivery - and £4.49 from Amazon, but they have a delivery time of between one and two months, yes MONTHS!
*sings* La La LAAA Mister Maker!
Mister Maker was one of my favourites kids TV characters – utterly bonkers, lots of fun and, as a family, we've made lots of the things featured on the show.
I haven't watched Mister Maker for a good couple of years now; there are lots of little kiddy programmes I don't get to see now my youngest is at school every day,
My favourite thing we made has to be Mr Grass Head: we got an old pair of tights, put some grass seed in the toe, then packed it with cotton wool, added some essential googly eyes, a nose and mouth etc, then watered him.
Not too long later our little character had a thick head or grassy hair that we could cut into various styles as it grew and grew, it was great!
We were even going to and go and see him in Bath with Tamsin and her daughter - I don't know who was more disappointed when we couldn't get tickets, the kids or me and her!
These Mister Maker DVDs are great things to have stashed away in the DVD drawer for a rainy day, or if you need to grab a few minutes to yourself to do something important uninterrupted, and then when you're done with that important thing you can come back and make something a'la Mister Maker; just brilliant, I love him and his gloopy glue.
Thanks to goonertillidie at HUKD