Make Your Own Mini Scrapbook £5.99 @ Play.com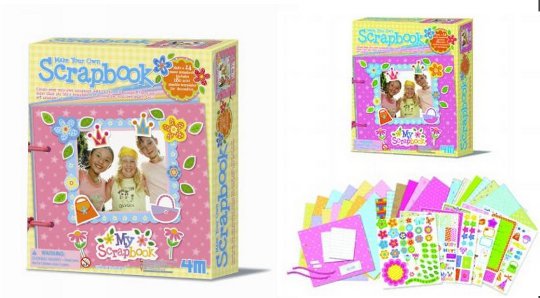 Play.com have another Great Gizmos gizmo on sale: a Make Your Own Mini Scrapbook kit, selling for £5.99 instead of £9.99.
This Great Gizmos Make Your Own Mini Scrapbook kit allows you to create a scrapbook with 24 full colour pages. There are more than 180 little templates to personalise your pages to your heart's content.
The kit includes a front and back cover, 12 sheets of printed inner paper, six sheets of patterned templates, 12 sheets of colourful printed paper, a sheet of alphabet stickers and glue.
While they say that it's suitable for children over eight years of age (although the features page says five and over!), I guess it's really more dependent on the child, and the end result you're hoping for, but they do say not suitable for under 36 months due to swallowable bits, I suppose.
An ideal rainy day activity for an older child, or a nice way to commemorate a special time together.