The Marvel Heroes Box Set £6.99 @ Play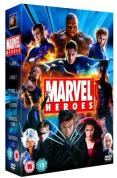 Show your man - of your dad - that he's your superhero this Father's Day with this Marvel Heroes Box Set.
Show me a man who didn't want read Marvel comics as a kid and want to be a superhero and I'll...I'll...take it all back!  But seriously, they've got to be a rare breed right? I wanted to be Wonder Woman and even SuperGirl, who I think is super annoying and a bit whiney but it wouldn't it be cool to have flying powers!
This Marvel Heroes Box Set would make a GREAT present for Father's Day as there are six DVDs for only £6.99 - Play.com have ignored the rrp of £44.99, you got to love 'em!
The Marvel movies included are:
X-Men - 2000
X-Men 2 - 2003
X-Men 3 - 2006
Elektra - 2005
Daredevil - 2002
Fantastic Four - 2005
I've  not seen Elektra or Daredevil...hmmm, or X-Men 3 for that matter (maybe I should grab this for ME too!) so I can't comment on them, although I've seen the trailer and it looks like it should be just as good as the other two!
There's no delivery to pay on items from Play.com and they usually ship within 24 hours so you've got time to order it, have it delivered and wrap it up in good time for Father's Day.
Thanks to kingberrill over at HUKD!