MAPS Toys: Build It With Bob, EZ-Fort And Bloco Review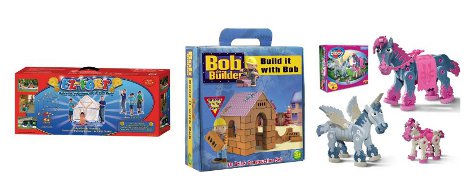 I'm a big lover of interactive toys that make children think, be creative and move around, so you can just imagine how much I love the items MAPS Toys sent us. We asked PlayPennies mums Kelly and Tracy to review three sets from the MAPS range: Build it with Bob, EZ-Fort and Bloco Savannah and Horses and Unicorns.
Build It With Bob
Build It With Bob - £27.99 for the largest set - is a range of creative toys that with which children build houses, walls, towers and other structures with real mini clay bricks and water soluble cement.
"I thought my son would be too old for this," says Kelly, mum to a seven year old, "but the fact that it is a proper building toy – as in you actually build with bricks and cement – made it a winner."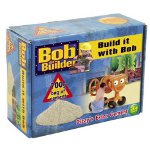 The set comes with instructions on how to build, but you can make your own designs too. The set includes bricks and cement and a good sized base board, which, says Kelly, "keeps dust and stickiness to a bare minimum."
The best thing about the Build It With Bob range, Kelly tells us, is "that you can just soak the bricks and re-make with them once you are bored with your construction. The downside is that you would need to replace the cement fairly quickly, as it isn't the biggest bag in the world."
Additional packs of cement are available.
EZ-Fort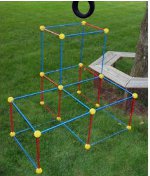 "This was SUCH a winner", Kelly gushed. "First off I should say my son did not make a fort with it. He made hurdles to jump over, he made a 'frame to put around his head' (he is a weird kid) and he made a big square on the floor to 'put things in'."
EZ-Fort - £34.99 at Amazon - is a 54 piece framework building system. It is the perfect size for small spaces whether in the house or the garden. Colour coded lengths of robust polycarbonate tube push into the connecting spheres to create a vast array of structures. But, it seems, no fort for Kelly's son.
"But no fort no matter – this is one heck of a toy for not much outlay – it totally captured his imagination – so much so, I found him browsing the EZ-Fort website! The booklet is excellent for inspiring ideas, too. He his apparently building a 'shelter' next for himself and his friend to sleep in at the next sleepover."
So a huge thumbs up from Kelly, the only downside to it is that her living room is taken over by whatever he makes. But either way, "Highly recommended" were Kelly's last words on it.
Bloco
We asked Kelly and her son to test the Bloco Savannah animal set (£19.99 at Amazon). Bloco are high density foam designed in unique colourful shapes. The foam pieces link together and rotate to any angle using the special connectors.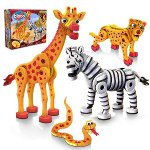 Kelly felt that this was a great toy for encouraging further conversations on wildlife, but that her son was really a bit too old for it. "The pieces", she told us, "are very child friendly, bright and easy to use, and the whole product range is designed to capture the imagination in an educational way."
She did feel though, that they would be more suited to a younger child, so following her recommendation, we sent a set of Bloco Horses and Unicorns (£24.99 at Amazon) to Tracy, mum to the four year old Abigail.
"There are instructions," began Tracy, "but Abigail dove in and started taking all the pieces out of the foam, and really, I think it's a bit old for her. I am terrible at 3D things, so I was relieved when my husband came home and fixed my attempt at a unicorn."
Tracy felt that the instructions were a bit daunting, but even so, the kit was enormous fun. She loved that they could follow the instructions or make up their own animals, but she didn't feel that they were particularly robust as Abigail's attempt at galloping a unicorn around the room resulted in bits and pieces falling off it and that it required "constant maintenance."
"Still," Tracy maintained, "my child had great fun with it and we loved it. It's messy as hell, as the bits multiply and spread across the room, but it would be a great Christmas present – but maybe for someone else's kid so you don't have to tidy up. But your kids will love it."
And Finally...
A big thumbs up from the PlayPennies mums for MAPS Toys then, even with a few little niggles and quirks.
All MAPS toys are stocked by a variety of major retailers, and prices vary dependent on stockist.