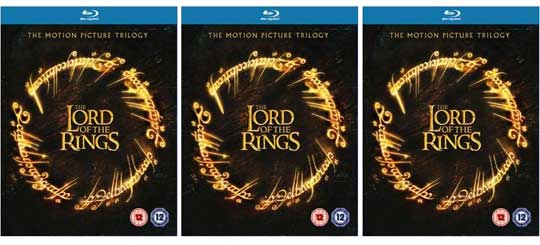 If you are one of the few people who don't own the Lord of the Rings trilogy on DVD, OR you want to upgrade your copies from standard DVD to Blu ray DVD, then you should head over to Sainsbury's Entertainment - they're selling the Lord of the Rings trilogy on Blu ray for £10.
Click HERE to go and grab a copy of Lord of the Rings on Blu ray *
I've confessed this before - but they say confession is good for the soul, so I'll 'fess up again: I've never read the Lord of the Rings books!  I did try, once or twice, when I was about 10 or 11 years old, but my goodness those books are HUGE and it was just a big book step too large at the time.
I love the movies though - AND, recently discovered that my husband hasn't seen any of them! - and am rather excited about going off to see The Hobbit on the big screen with my daughter in a few weeks, when it's released.
I have no point of reference with the Lord of the Rings books and the movies, so I just thought they were all great - utterly EPIC, in fact - and hope that the Hobbit story hasn't had too much poetic licence applied (although, I do know that Legolas isn't in the book but has been written into the movie - so we'll just have to wait and see!).
Anyway, back to the Lord of the Rings trilogy - it's a nice and simple edition; just three discs (one for each movie) with no extras, directors cuts or behind the scenes extras that no one ever really bothers to watch.
Now about that £10 price - if you're a new customer to Sainsbury's Entertainment then you can use the following code to get £1 off: SECLOUD1011, which will bring it down to £9; marvellous!
Thanks to idx11 at HUKD