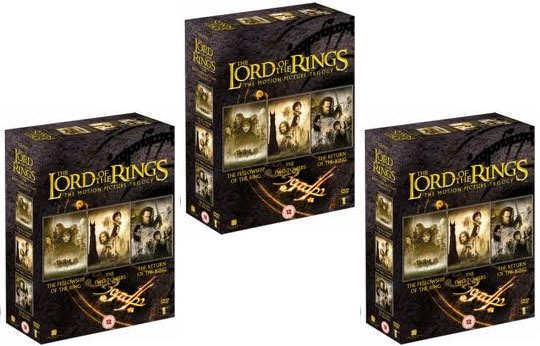 Tesco Direct are selling this Lord of the Rings DVD box set for a mere £4.73! I have no clue what the full price should be, I just know it should be somewhat more than £4.73 - I remember when the normal price of DVDs was closer to £20...but that was back in the day when video was still king!
Now you may be thinking that most people have seen the Lord of the Rings movies, and own copies of them on DVD - well you'd be right and wrong. My youngest son Edward is just getting into the whole Lord of the Rings saga: he and his dad have read The Hobbit and are now on the Fellowship of the Ring, he's also watched the film.
What he doesn't have, however, is his own copy of the films, which is why I've lost custody of MINE! So I have two choices, well three actually:
Buy him this box set

Replace my copies with this box set; or

Don't bother replacing them at all
I'm undecided as to which option I'll take at the moment, but it almost seems rude not to buy one at such a good price!  But then there's the whole Blu ray upgrade issue to consider, which means I'll just think about it all another day.
Thanks to 3spartan at HUKD