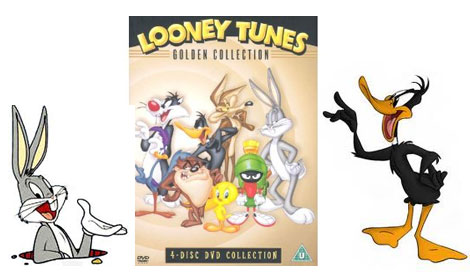 Amazon are selling this Looney Tunes Golden Collection DVD set for £5.99 instead of £40.99.
I can hear the Looney Tunes theme tune in my head right now and it just brings memories of watching these cartoons at my nan's house when I was a kid.
It's almost impossible to name a favourite Looney Tunes character - Bugs Bunny was just too cool and suave, Daffy Duck was just dopey, Road Runner was funny and Wiley Coyote even more so.
I wasn't much of a fan of Elmer Fudd though, he didn't really do anything for me and when Taz first hit the screens on Saturday morning TV I'd watch it before heading out on motorbikes for the day (I wasn't really the target audience I know, but I liked it!) and let's not forget Tom and Jerry.
This Looney Tunes Golden Collection DVD set contains four discs and will give you over 400 minutes of Looney Tunes action and fun.
The reviews it's been given are golden too...
"Great value and well worth the money as it kept my son quiet for ages - except for the laughing. I would definitely recommend purchasing this DVD."
"I've just bought this set for myself, sorry, I mean for my toddler and I'm, sorry, I mean he's really enjoying it.  This set really takes me back to when I was a kid; kicking off my shoes from school, grabbing a can of vimto and a curly-wurly and watching Daffy Duck's beak fall off.  Brilliant."
Indeed brilliant!
Thanks to shakallis at HUKD