Let's Play! Guess How Much I Love You Book, Board Game And DVD £7.99 @ The Works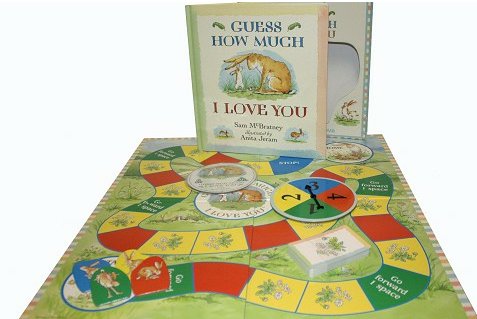 The 'Guess How Much I Love You' Book, Board Game and DVD from The Works is currently on sale for £7.99 instead of £20.
There really is not a huge amount of information available on line about the game that sprung from the story it was named after. While we love the story, I'm not sure about the game, since there's little to no insight into it!
According to BoardGameGeek.com it is a matching and pantomime game for young children. The object of the game is to find the matching cards for your game board, while imitating the motions on the cards. When all the boards are completed everyone wins. Looking at the pictures though, I don't think it's the same game!
This one comes with a board for up to 4 players and an animated DVD of the story, narrated by Kevin Whateley. Contents include 1 game board, 1 spinner, 4 character stands, 4 pieces, 28 cards and rules sheet.
At £7.99, it should make some little fan of the story quite happy!
Thanks to andywedge at HUKD
Thanks to andywedge at HUKD