LEGO 2012 Calendar £3.49 @ Play.com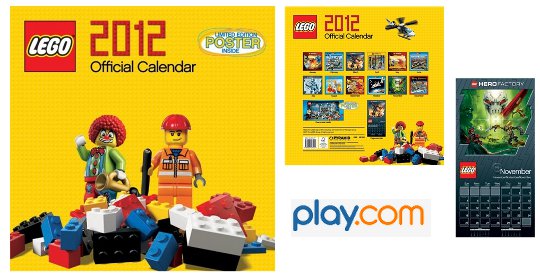 Play.com have next year's LEGO calendar on sale for £3.49, including free delivery – a £6.50 saving off the usual price of £9.99.
Here's what the blurb tells us about the calendar: "…. …. … ". That's right folks, a whole lot of nothing.
Using my master deduction skills (in other words, looking at the pictures), which may or may not prove to be accurate, there are 12 LEGO inspired images and, cleverly, that's one for each month (yes, yes, I'm dripping with sarcasm.)
The images seem to range from scenes from LEGO City to LEGO Hero Factory, to something to do with surfers and I think a train station – the images aren't that clear on the screen, but I'm sure they'll be just great on the calendar.
It's a month – to –view calendar so each page that opens up with one of the images and also has the month's dates in boxes with enough space for you to make your notes on – assuming you have a pen that will show up on the dark background.
Apologies for the lack of much solid information here, I'm telling you what I know – but either way, for £3.49 I can think of at least one LEGO lover who'd be pleased to find this in his man-sized stocking come Christmas morning.
Thanks to Andyd at HUKD