Leapfrog Up To 42% Off @ Play.com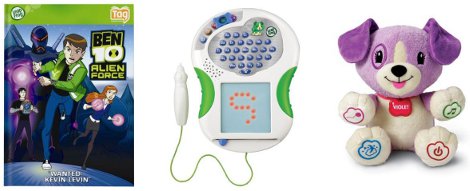 Play.com is offering up to 42% off Leapfrog toys and games, with free delivery.
While the ad on Play.com says that there's up to 20% off in the sale, but some of the items have as much as 42% off.  That said, the Ben 10 Alien Force Wanted Kevin Levin LeapFrog Tag book has 50% off,  and is £6.39, so it seems as if Play.com can't really make up their minds – in our favour though!
Another great offer is the LeapFrog: Scribble And Write for £14.29 instead of £19.99. With this, children trace the lights to get practice drawing simple shapes and pictures, then graduate to learning upper- and lowercase letters with step-by-step guidance.
The very cute My Pal Violet has 35% off, making here £12.99 instead of £19.99 and comes with 5 pre-loaded songs, or you can select and download your choice of learning tunes and lullabies from an online list of 30 songs. Press a paw to play music, learning songs or games!
There are 80 LeapFrog games and books on offer, which gives you plenty choices for starting or adding to you LeapFrog collection.