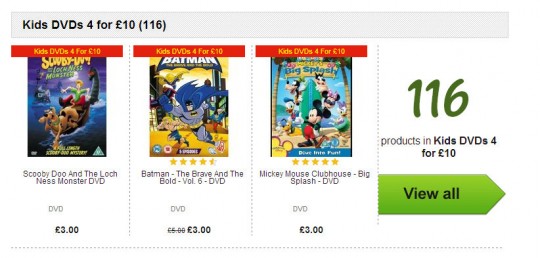 Asda is selling kids DVDs at £3 each or 4 for £10, an immediate £2 saving on a bulk buy.
We all know endless screen time is not good for kids or their behaviour, but there's nothing like family movie nights to start of happy traditions that last well into teenage years, and sometimes beyond.
These DVDs from Asda are £3 each, but they are almost all reduced from £4 or £5 or in some cases up to £9, making your saving per DVD anything from £1 to £6, which multiplied by four can really add up with some smart choosing.
DVDs included are largely not new releases, but still classics the kids will love.
Some of the titles included, just to mention a few of the 116 available, are:
Monsters vs Aliens
Flushed Away
Shark Tale
Fireman Sam
Postman Pat
Thomas The Tank Engine
The Gruffalo
Ant Bully
Spooky House
Both shipping and in-store pick up are free, so take your pick.
Thanks to gerrymig at HUKD