(EXPIRED) The Jungle Book Storybook Reading For Kids App FREE @ iTunes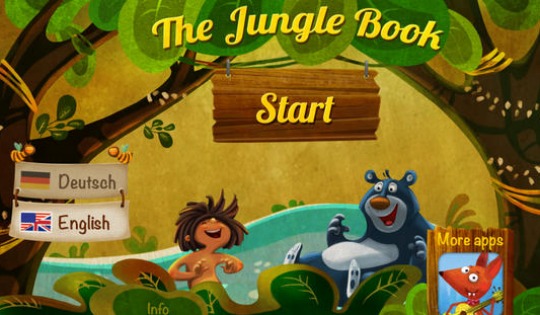 The Jungle Book is a favourite of mine and I bet yours too. That stems from the Disney version that was so popular in the 80's/90's. It's always nice to share something with the kids that you enjoyed as a child. You don't need to do it the Disney way either. Get the Jungle Book Storybook Reading for Kids App from iTunes. It's absolutely FREE and it is highly rated by iTunes customers.
The Jungle Book Storybook Reading for Kids App comes in two languages, English and Deutsch. Very handy for those teaching their children both languages. It's a very popular choice to bring children up bilingually. I have a few friends doing that with their children.
This reading app requires iOS 4.3 or newer and is compatible with iPhone, iPad, and iPod touch. However, it was created with the iPhone 5 in mind so will work best on one of those.
It's bright and colourful, and sounds like it's a great app.  It has a clear narration of this popular Rudyard Kipling story, with animations to compliment. There's music too to keep your child engaged.
Thanks to antdav @ HUKD