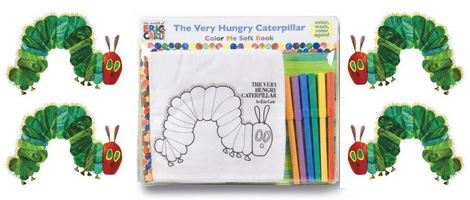 This Very Hungry Caterpillar 'Colour Me' soft book is a really lovely idea and something I haven't come across before, which is saying something when it comes to anything Very Hungry Caterpillar!
I've loved the Very Hungry Caterpillar ever since I first met him at infants school (as it was called then, none of this Reception malarky).
The Teenagers loved him as kids and love him now; my youngest loved him and whilst Ben 10 is currently the BIG thing in his life, he still comes back to the Very Hungry Caterpillar now and again.
My mum bought him a Very Hungry Caterpillar colouring book a couple of Christmases ago, I ended up buying one for me as I wanted to colour one in for myself - properly, inside the lines and everything!
With The Very Hungry Caterpillar 'Colour Me' soft book, you don't get to colour in the pictures once - it comes with machine washable pens so you can colour in the pages, put the soft book in the wash which then comes out clean ready to be coloured in all over again!
I think this is genius!  Great for kids who love to do the same thing over and over, or those who have perfectionist streaks and get frustrated if their attempts aren't as great as they want them to be.
The rrp for this Very Hungry Caterpillar 'Colour Me' soft book is £12.99, you can get it from Play for £6.49 with no delivery costs to pay.
Thanks to hsg over at HUKD!