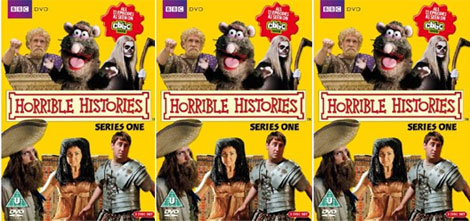 Amazon are selling this Horrible Histories DVD (series one) for less then half-price - £5 instead of £12.99.
I remember when the Horrible Histories books first came out; I wanted to kiss Terry Deary, the author, for his genius approach to history and bringing it to life for my children - this is history with the all the nasty bits left in it that kids just love.
If your kids are still small to sit and read through the book versions of Horrible Histories yet, then you're in for a treat with this series one Horrible Histories DVD.
The Horrible Histories DVD will take you and your child on an anarchic journey through time with its surprising and unconventional take on history's most gruesome and funny moments.
Foul facts, rotten rulers, beastly battles and evil inventions feature in horribly hilarious sketches, songs, cartoons and quizzes are all linked by the show's host, a talking rat - what else!
From Woeful World Wars, Measly Middle Ages and Savage Stone Age to Cut-throat Celts, Groovy Greeks, Rotten Romans, Vicious Vikings and Awful Egyptians, history has never been so horrible and so GREAT.
Now we all know what Amazon are like for fiddling with their prices so if this Horrible Histories DVD has gone UP by the time you read this, go and look over at Play.com as they are selling it for a fiver too (although they have been known to go a bit Amazonesque and move their prices up and down at the drop of a hat too *sigh*)
Thanks to lucerysmum at HUKD